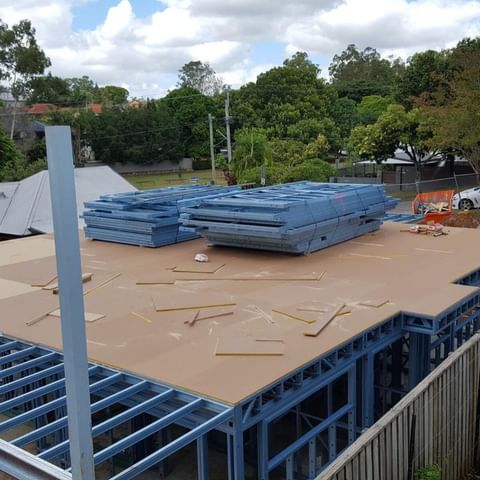 The frame is the backbone of the house, and it is important that it is strong and secure. Traditionally, homes have beenbuilt with timbers, steel frame homes entered the market in recent years due to the shortage of timber.
we have used both materials over the years and see the advantages and disadvantages of both. Here is a comparison between the two so you can make your own choice.
Cost
There is not much difference in cost between steel and timber frame homes.
Steel is more expensive compared to timber. However, most steel frames are prefabricated off-site, which reduces onsite labour costs and wastage. timber, on the other hand, is relatively inexpensive, more readily available, and can be built quickly. The final cost between the two is about equal.
Strength
Steel is a more durable material than timber. It has a high strength-to-weight ratio. Steel houses are designed to withstand hurricanes and bushfires which are a common problem throughout Australia. But the frame quality is more about the actual design and build standard, meaning that if a project meets Australian building standards, you don't need to worry about quality either way.
Termite damage and corrosion
Termite damage has always been a big problem in Australia. Timber needs to be fully treated to address this problem to some extent. Steel frames do not require treatment of preservatives, pesticides and do not support mould growth.
However, in a coastal environment, the use of steel frames is riskier. Steel is a material that is easily corroded, the combination of water, wind and sand make it easy to rust.
Movement and Cracking
There is nothing worse than finding cracks in a home. Even the slightest movement in the frame can cause cracks in the plasterboards inside the house. Steel frames do not twist, warp, or bend compared to timber frames, so there is less overall movement in steel frames.
However, steel is more likely to expand during the summer months, putting pressure on different areas of the house. This may cause movement and crack in the plaster and other areas.
 Environmentally friendly
Steel is 100% recyclable, but the high amounts of energy required in steel production do have a negative environmental impact. The steel production industry is still one of the major polluters on the planet, and steel mills leave a huge carbon footprint at every step of the steel production process.
Timber is a naturally renewable product. when you choose timber, you are choosing a renewable material that not only stores carbon for life (more than half the weight of dry wood is carbon, absorbed from the atmosphere by a growing tree) but also has low embodied energy.
Whichever material is used to construct the frame, the building will comply with Australian standards. the use of a timber or steel frame is more a matter of personal preference. Whichever system you choose, our builder will be happy to install it for you. We offer the choice of both steel and timber frames at no extra cost. If it is still difficult to decide, please feel free to write and call me to discuss.
房屋的框架结构—-  钢架VS 木架
框架是房屋的骨架,因此,框架是否坚固和安全决定了房屋的使用寿命。框架选择也是建房过程中的一个很重要话题。传统上,住宅都是用木结构来建造的,近几年由于木材短期,钢结构住宅才进入了市场。
多年来我们对这两种材料都有使用,木结构框架和钢结构框架各有其优劣。以下是两者之间的比较,以便您在钢结构和木结构之间做出自己的选择。
成本
钢结构住宅和木结构住宅在成本上相差不大。
钢材相对木材更贵。但大部分钢结构住宅的框架都是工厂预制件。 它的好处是可以现场直接安装,快捷方便,这样可以减少现场施工的人工成本和材料损耗。
木材价格相对低廉,更容易买到,可以快速地建造。两者之间最终的成本差不多持平。
强度
钢材被认为是比木材更耐用的材料。它具有较高的强度重量比。钢结构房屋的设计可以抵御飓风,也能经受住常见的丛林大火。但其实框架的质量更多的是与实际的设计和建造标准有关,也就是说,如果一个项目符合澳大利亚的建筑标准,无论采用哪种材料都不用担心质量问题。
白蚁损害与腐蚀
在澳洲,白蚁对木结构房屋的损害一直是一个大问题。木材需要经过专业的处理才可以在一定程度上解决这个问题。钢材则不必担心虫害,霉变等问题。
但在沿海潮湿环境中,钢架会有被腐蚀的风险。因为钢材是一种容易被腐蚀的材料。水气、风沙,及盐碱酸等化学品都会导致钢材的锈蚀。
移动和开裂
没有什么比发现房屋出现裂缝更糟糕的了。即使是房屋框架中最轻微的移动也会导致房屋的墙面和房顶石膏板的开裂。相比于木架,钢架不会扭曲、变形、或弯曲,因此钢架相对于木架的整体移动较少。
但钢材有可能在夏季的几个月里膨胀,对房屋的不同区域施加压力。这也会导致轻微的变形和开裂。
环保
钢材是100%可回收利用的,但钢结构生产所需的大量能源确实会对环境产生负面影响。钢铁生产行业仍然是地球上的主要污染源之一,钢铁厂在钢铁生产过程中的每一步都会留下巨大的碳足迹。
木材是一种天然的可再生产品。使用木材相当于把木材重量一半的碳固定在了建筑中,减少了温室气体的排放。从这个角度来看,使用木材比使用钢材更环保。
无论采用哪种材料建造框架,建筑都会严格符合澳洲标准,所以采用木架还是钢架更多的是个人喜好问题。不管你选择哪种系统,我们的建筑工人都很乐意为您安装,我们提供钢结构和木结构两种选择,不收取额外费用。如果还是难以抉择,欢迎来信来电和我讨论。